Brentwood Catholic Youth Service (BCYS): Joy, faith & friendship; serving young people and all who walk with them, inspired by Jesus Christ.
Sunday 12th July, 10.30am – LIVESTREAM from Romford – 15th Sunday of the Year
From Sunday 12th July we will transfer the Livestream; Mass will come from the parish of St Edward the Confessor, Romford.
The Parish priest in Romford, Fr Tom Jordan, is unwell, and Fr Dominic is assisting there. To serve the parish, and anyone else for whom the Livestream is helpful, we will – throughout July and August – use the BCYS channel and facilities, while gradually opening the parish church in accordance with all the Government and Bishops' guidelines. See more
Livestreaming from Walsingham House a Year 6 Leavers' Mass at 10am on Wednesday 22nd July (the last day of term in most schools)
The Mass will be pitched for the age group in terms of music and readings, etc. The words of the hymns will be on the screen, so that children can join in from their school hall, or even from home. Our young team will read the reading.
The 18 Hour Challenge – how will you begin Summer Lourdes 2020?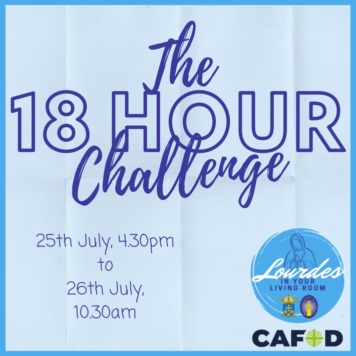 The coach journey to Lourdes normally takes 18 hours.
Our Lady appeared to Bernadette 18 times.
So, how will you begin Summer Lourdes 2020?
Sunday 26th July, 10.30am – LIVESTREAM from Romford – 17th Sunday of the Year (18 hour challenge "survivors" Mass)
Mass is now Livestreamed from the parish of
St Edward the Confessor, Romford.
Today's Mass will be the culmination of an "18 hour challenge" for some of our young people and young leaders, marking the moments when they should have been on the 18 hour coach journey to Lourdes. See more
Lourdes in your Living Room, 27th – 31st July.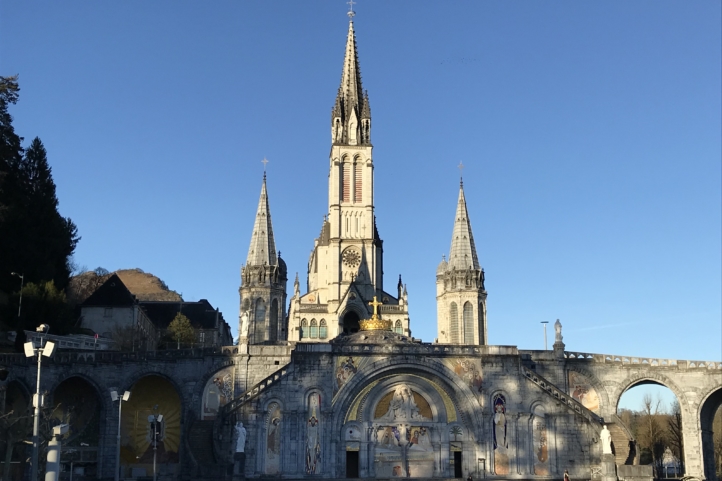 Join Bishop Alan and hundreds of people from across the Diocese for this virtual pilgrimage which includes Mass, Angelus, Rosary, reflections, Morning and Evening Prayer each day, all via YouTube, as well as Stations of the Cross, a Marian Procession, and a talent show on the final evening. To be part of the virtual Marian ("Torchlight") procession, send photos of yourself, family members and friends each with a lighted candle, to info@bcys.net If you are a singer, joke-teller, dancer or can entertain in some other way, email us at the same address by Sunday, 12th July, for more details of the talent show. The full pilgrimage information is at www.bcys.net including a daily timetable, YouTube details, and additional events for those aged 15-23.
"Like and subscribe" – BCYS now livestreaming on YouTube and Instagram
We are delighted that – with a lot of help from our friends – we are now live for Masses on both Instagram and YouTube. See more
MENTAL WELL-BEING DURING COVID-19 LOCKDOWN AND BEYOND
Ways to Pray
Prayer Apps – three of the best. See more