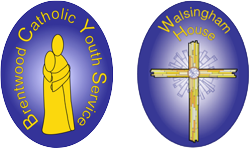 Brentwood Catholic Youth Service (BCYS): Joy, faith & friendship; serving young people and all who walk with them, inspired by Jesus Christ.
Brentwood Catholic Children's Society – supporting the emotional health of wellbeing of children ad young people.

Launch of BCYS Voices – #Dare to Dream – Saturday 24th October, 10am, Instagram
We would normally be at Youth Gather on 24th/25th October. As you may know, we had planned a virtual afternoon, but unfortunately one of our speakers has suffered a serious family bereavement. We have also reconsidered the best way to support young people and those walking with them, and over the next six months will offer "BCYS Voices" – a set of six speakers, offering great insight and discussion/reflection questions. On 24th October we will launch this with prayer on Instagram led by Harry and Georgia from Walsingham House. See more
Livestream Youth Mass 8pm, November 4th; Commemoration of the dead
November is a time of remembering those who have died; this year, so many hundreds of thousands have died from CoronaVirus across the world, and nearly 50,000 in the UK. We pray for each of them – every one someone's son or daughter; many of them husbands and wives, grandparents and parents, sisters and brothers to those who now grieve. See more
"BCYS Voices" on YouTube – Fr Paschal Uche 7th November, 10am
Fr Paschal will reflect on the pain of racism, the problem of racism, and the potential that we have, as young Catholics, to build the world in the image of Jesus Christ – where everyone is welcomed, valued and loved, in all the beautiful diversity of every race.
The "BCYS voices" episodes will continue with a fresh speaker on YouTube on the first Saturday of each month, through until March 2021.
MENTAL WELL-BEING DURING COVID-19 LOCKDOWN AND BEYOND
Ways to Pray
Prayer Apps – three of the best. See more